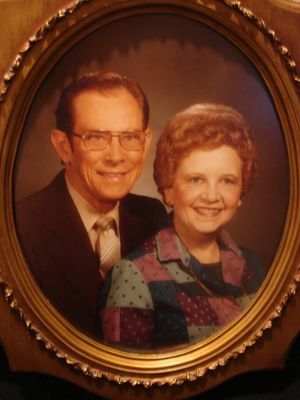 Our roots began in the Fremar Music Studio operated by Margie and Fred Fremar in Fort Scott, Kansas (See photo left).  Instructor Margie (Armstrong) Fremar first studied piano in Fort Scott, but when her father (who loved the accordion) surprised her one day by bringing home a new accordion for her to play, she quickly began accordion studies with Mrs. Konantz, a local musician.  Margie Armstrong became a popular accordion performer, and often performed in a duo with Gola Roberts on vibraphone.  The Armstrong/Roberts duo was in demand for performances throughout the Southeast Kansas area.  Around 1953, musician Bertha Miller called Margie and began to insist that she teach her how to play hymns on her accordion.  After repeated requests, Bertha became Margie's first student.  A local educator, Verna Hoggatt, then became instrumental in urging Margie to open a studio and to teach her young daughter, Shirley Hoggatt (now Shirley Palmer) to play the accordion.  Margie realized how much she enjoyed teaching, so she decided to advertise in the newspaper for 5 students.  The response was so great that she never had to advertise for students again!

After beginning to teach the accordion and working with many very exceptional young students, Margie began further accordion studies in Kansas City with Alfred Vacca and later with Joan Cochran Sommers to learn about the new free bass instruments.   She was teaching a full-time load of students.  After 9 p.m. at night, she would then have dinner and then head back to the studio to practice from 10 p.m. to Midnight each night!  Margie's husband, Fred, served as the director of bands, accordion instrument repairman, piano tuner and technician and MC'd the studio's recitals and performances.  Students will remember Fred as the guy who wished all the performers good luck in the wings before they took the stage!  

Over the course of 51 years of operations, Margie instructed over 500 students in accordion and piano studies.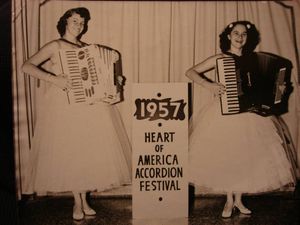 The studio presented recitals twice per year and many programs throughout the 4-state area that featured its many soloists, accordion ensembles and bands. The studio offered senior and junior band opportunities (then dubbed Advanced and Midget Bands) as well as duos, trios, quartets, quintets, and sextets.  All of these groups regularly provided programs for area organizations and churches. 
(Photo Right: Teen students who went on to attain outstanding achievements: Patsy (Blair) Wade and Shirley (Hoggatt) Palmer.)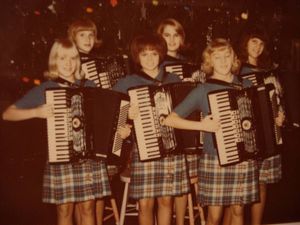 The Teen Tones (an all girl sextet who began performing together when aged 6-8 years as the Lollypops) appeared on the Ted Mack Amateur Hour.  Groups with names such as: Tune Toppers, Guys and Dolls, Gordon Sisters, Seaver Sisters, Streeter Duo, The Calypsoes, Teen Mates, Accordionettes Trio, The Polka Tots, Tonettes, Fremar Quartette, Accordettes, Tonettes, Misses Four, The Allegros, and many others entertained in the community with all memorized programs.  Band members wore skirts with handmade jeweled accordions attached, while each ensemble had their own especially designed performance costumes.  All training for ensembles and bands was offered to students at no charge.  



Each year the studio entered competitions such as the Heart of America Accordion Festival, the Mid-America Music Festival, the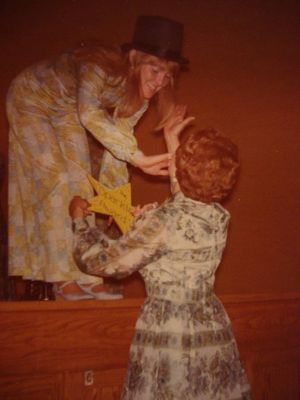 National Federation of Music Clubs, and the Tulsa Accordion Contest.  Fremar students consistently placed in the top of their respective classes, and over the course of many years of competitions they won hundreds of trophies and awards.  (Photo Right: Julie Gettler presenting Margie "The Sparkle Award," a surprise thank you gift from the students at a Fremar Studio Recital.)  Our first studio trophy was won by Pat Blair.  Our first band championship trophy was won in 1959. (See photos below.)  Margie was thrilled when several of her prized students decided to use their musical training in accordion or piano to pursue college degrees with music as an emphasis in their studies.  (To recall a few who went on to pursue college studies in music--Pat Blair, Charla May Edmiston, Judy Singmaster, Joyce Thornton, Janice Schooley, Julie Gettler, Karen Fremar, Janice Gordon, Sherrie Forkner, Mark Shead, Tricia Cummings, Josh Simpson, Sherrie Robinson, Jara Eshelbrenner, Belinda Petersen, Laura Brewer, and James Beltz.)  Margie and Fred always followed the varied careers of all their students with interest and shared great joy in their many outstanding achievements.     

NOTE:  We will add additional photos and information to this page so check back to see what's new. 

Photos below: 
(1) First Studio Trophy won by solo competitor Pat Blair, (2) Margie Fremar and Pat Blair, (3) Fremar Band 1959 Recital, (4) First Championship Trophy won by the Fremar Advanced Band at Heart of America Accordion Festival (H.A.A.F) in Topeka, Kansas, 1959.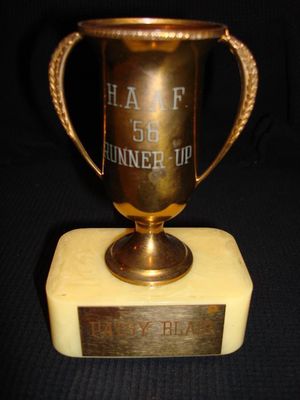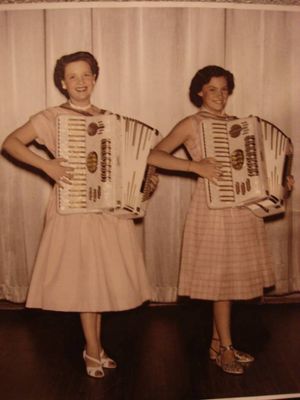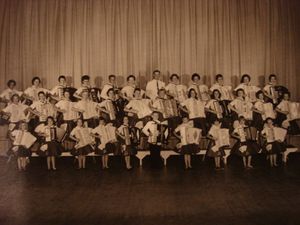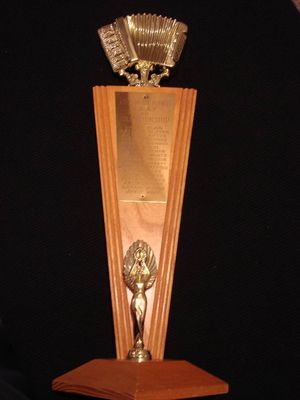 1960 Fremar Band at Competition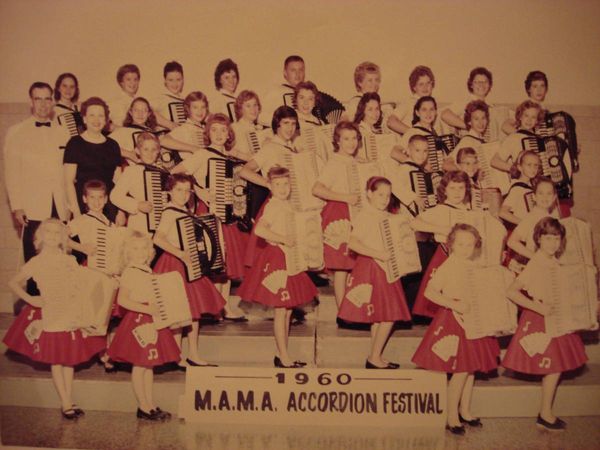 1960 Fremar Band Members:  (First Row L-R) Janice Gordon, Diana Gordon, Peggy Russell, Janice Seaver.  (Second Row L-R) Jananne Hewett, Joyce Thornton, Karen Fremar, Gail Wray, Judy Turner, Terry Blythe.  (Third Row L-R) Fred Fremar, Director, Margie Fremar, Instructor, Ricky Vaughn, Linda Dikeman, Glenda Smith, Cheryl Seaver, Rick Hansen, Margie Seaver, Julianne Cooper.  (Forth Row L-R) Sandra Kay Gift, Kayleen Blythe, Leeta Cochran, Charla May Edmiston, Marilyn Coonrod, Joyce Wray, Rita Dunsworth, Vicki Ranson.  (Fifth Row L-R) Shirley Hoggatt, Judith Singmaster, Kay Diehl, Pat Blair, Arlene Vaughn, Linda Hunter, Janice Hammons, Phyllis Luker, Beth Clayton. 

The Teen Tones
Photos below L-R) Diana Gordon, Peggy Russell, Terry Blythe, Karen Fremar, Jananne Hewett, and Janice Gordon.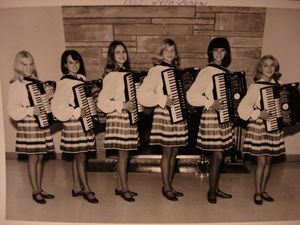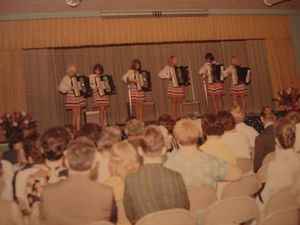 Photos below: (1) The 1971 Teen Tones (L-R ) Sherrie Forkner, Julie Gettler, Steve Craft, Janice Schooley, David Streeter, Susan Dixon, Betty Ann Guilfoyle, Debbie Jackson.  (2) An early 1958 ensemble photo of "The Fremar Four" (L-R) Judy Singmaster, Marilyn Quick, Charla May Edmiston, Linda Hunter.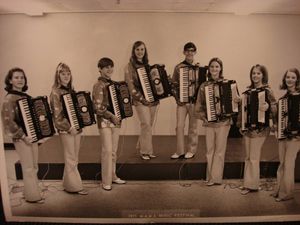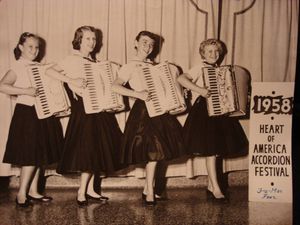 Photos Below: (1) Margie especially enjoyed working with young students.  Here are the very successful Polka Tots in 1965 (playing the new Titan 48 bass accordions) at their first competition (L-R) Susan Crown, Julie Gettler, Jeffrey Hewett and Mary Sue Jackson. 
(2) The Guys & Dolls Ensemble in a 1968 recital performance (L-R) Tedena Kelly, Jeffrey Hewett, Teresa Kelly, David Streeter, Julie Gettler, and Pam Noe; (Right) 1969 Fremar Band.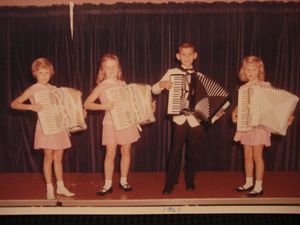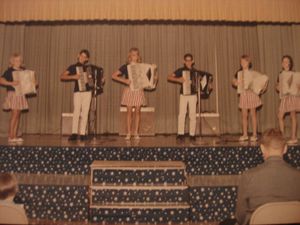 Below: The Fremar Band before Recital and Competition in 1969.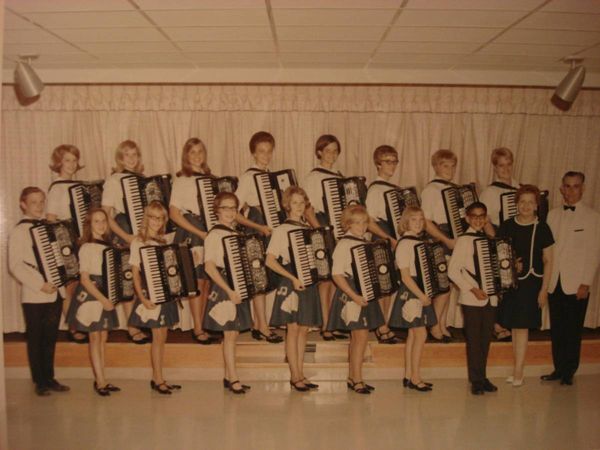 Band members above: (First row L-R)  Steve Crown, Pam Noe, Sherry Wright, Sherrie Forkner, Debbie Jackson, Tedena Kelley, Julie Gettler, David Streeter, Margie Fremar, instructor, and Fred Fremar, Director.  (Second row L-R)  Betty Guilfoyle, Karen Fremar, Janice Schooley, Patricia Peterson, Susan Dixon, Teresa Kelley, Martha Schnichels and Pam Morrison. 

Below is an early Fremar Studio Band photo from 1956.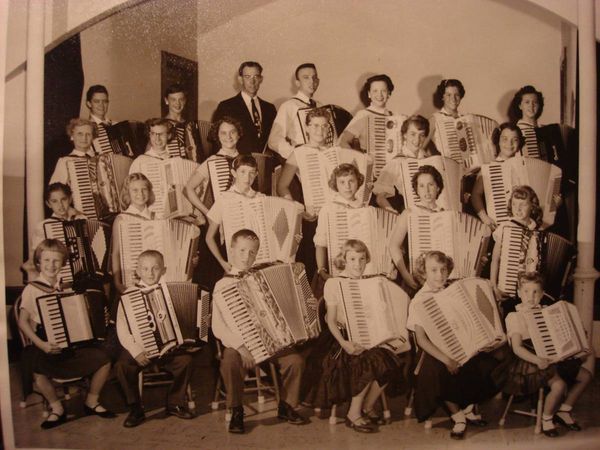 Ensemble Members above are: (Front row, left to right) La Donna Young, Richard Vaughn, Michael Slaven, Leeta Cochran, Rita Dunsworth, Karen Fremar.  (Second row) Joyce Wray, Ava Stroud, Judy Russell, Doylene Shoemaker, Marilyn Coonrod, Linda Dikeman.  (Third row) Lily Hailey, Lois Faye Dunsworth, Shirley Hoggatt, Janice Hammons, Nelda Rudisell, Joyce Tucker. (Fourth row) Edythe Wise, Rosemary Albright, Fred Fremar, director, John Wright, Margie Fremar, instructor, Patsy Blair, Geraldine Forrester. 


Our First Fremar Ensemble in 1954 performing at Eugene Ware Auditorium in Ft. Scott, Ks.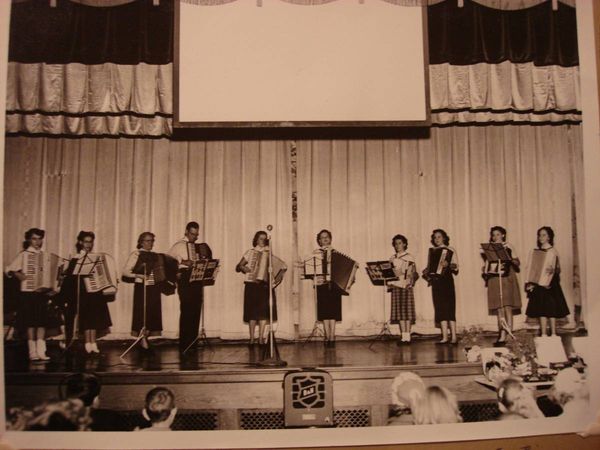 Ensemble members above(L-R):  Nelda Rudisill, La Donna Milburn, Bertha Miller, Fred Fremar,
Barbara Wilcher, Margie Fremar, Geraldine Forrester, Joan Wilcher, Patsy Blair, Shirley Hoggatt.
 
The Studio did some unique things:
Fremar Students participated in the Massed Band at the Ak-sar-ben Arena in Omaha, Nebraska in 1963.  In the center very back row are Judy Singmaster, Pat Blair, Charla Edmiston--with Paula Pitts and Peggy Russell also visible in the row before.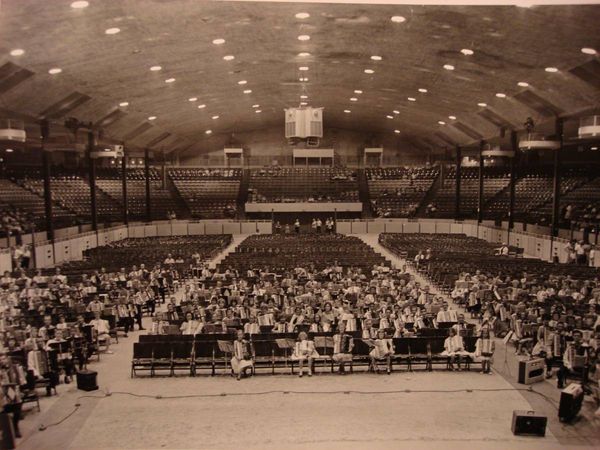 The Fremar Band appeared several times in parades.  Below is the band in action (1961 Kansas Centennial Parade).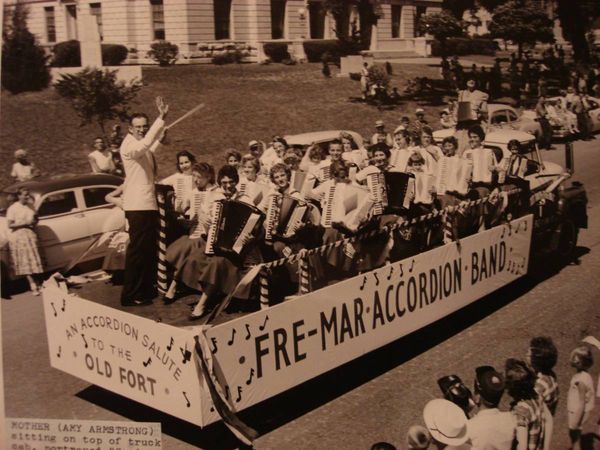 The Fremar Foundation seeks to continue the presentation of quality events to the public that feature outstanding accordionists and also ensembles that feature the accordion.  We do so in our annual "Music & Merlot" concert and also in our musical presentations to private and civic groups throughout the year.  These presentations often include discussions of the accordion's "roots," demonstrations of various antique instruments, and performance of new music composed for the instrument.